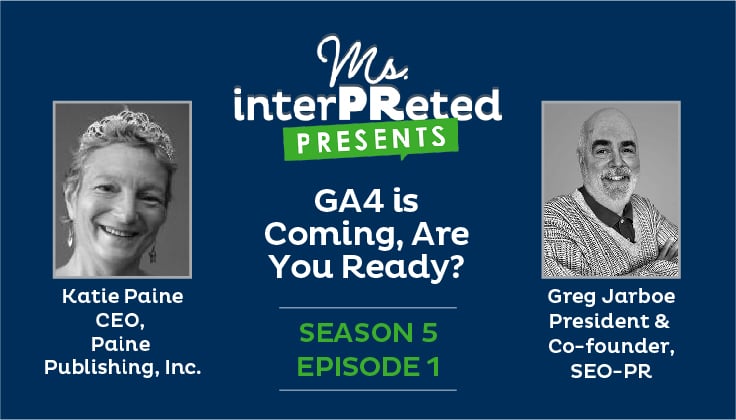 Google Analytics is transitioning to GA4 this year. Experts Greg Jarboe and Katie Paine talk with Fletcher Marketing PR's Director of Media Relations, Allison Lester, about the transition and the important things that everyone needs to know.
Greg Jarboe is president of SEO-PR, which he co-founded in 2003. Their digital marketing agency has won awards for generating results for a variety of clients, including: The Christian Science Monitor, Get City Dealz, Harlequin Romance, MarketingSherpa, Parents magazine, the SES Conference & Expo series, Southwest Airlines, and Rutgers University. He's also the author of 'YouTube and Video Marketing' and one of the 25 successful online marketing gurus profiled in Michael Miller's Online Marketing Heroes.
Since 2003, Jarboe's written more than 1,600 posts for ClickZ, Inked, Search Engine Journal, Search Engine Watch, The SEM Post, and Tubular Insights. He's spoken at over 80 industry conferences. In addition, he's an instructor at Coursera, Rutgers Business School Executive Education, and the New Media Academy.
Katie Paine, aka The Measurement Queen, has been a pioneer in the field of measurement for three decades. She was recently awarded the prestigious IPR Jack Felton Medal for Lifetime Achievement, an award made for lifetime contributions in the advancement of research, measurement and evaluation in public relations and corporate communication. Her books, Measure What Matters (Wiley, March 2011) and Measuring Public Relationships (KDPaine & Partners, 2007) are considered must-reads for anyone tasked with measuring public relations and social media.
Her latest company, Paine Publishing is the first educational publishing firm entirely dedicated to making more Measurement Mavens. In her consulting practices, she designs measurement dashboards for some of today's most admired companies.
More recently, Katie was named one of "25 women who rock social media" by Lee Odden's prestigious Online Marketing Blog.
She contributes to Communications World, PR Week, and Business Marketing.
In this episode, they talk with Fletcher Marketing PR's Director of Media Relations, Allison Lester, about the upcoming transition from Google Analytics to the new GA4. Google Analytics has been utilized by professionals for the better part of a decade and is now being transitioned due to the fast-paced growth of our world.
They talk about the difference between Google Analytics and GA4 regarding:
Measurement of events rather than sessions

Engagement rates

Adjustments in the attribution model

Tracking of cohorts

The process of setting up goals

Integrated Marketing

And why you should wait until Q2 to get started on transitioning your business
Sessions will be held this April to provide information on GA4 to PR professionals. Visit www.painepublishing.com or email Katie at measurementqueen@gmail.com.
Listen to this episode of MsInterPReted to find out more about the transition from Google Analytics to the new GA4.
On Twitter: @queenofmetrics
Visit: https://painepublishing.com/
Follow Fletcher Marketing PR on:
Follow Kelly on Twitter: @KDFletcher
Follow Mary Beth on Twitter: @marybethwest