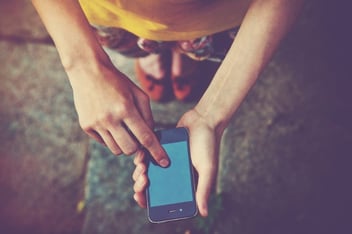 Since Instagram's launch in 2010, the photo sharing site's popularity has taken flight and shows no signs of slowing down. With more than 700 million users, Instagram has become a powerhouse for social media influencing, branded sponsorships and brand recognition. It is no secret this platform has incredible marketing potential for almost any brand, but how can your brand utilize Instagram to elevate your brand recognition and get the most engagements from your specific audiences? Here are some tips to consider when building your brand's account.
The Photo
According to Omnicore, There are 95 million photos and videos shared per day via Instagram. With such a large volume of competing images, what makes a photo stand out from the crowd?
Sometimes less is more. Sprout Social reports images on Instagram with a high amount of negative space generate 29 percent more likes than those with limited negative space, and images with a single dominant color generate 17 percent more likes than images with multiple dominant colors. Keeping your photos visually pleasing will foster more consumer engagement and capture attention on user feeds.
Consistency is key. On average, brands post 1.5 times a day on Instagram. Maintaining a consistent social presence is important for brand recognition, but ensure that the quality and effectiveness of your posts remains consistent as well.
The Caption
Though Instagram is centered on visual appeal, posts containing a great caption can set your brand one step above the rest. So, get creative! When writing a caption, it is important that your brand voice is carried throughout each of your posts. Caption length does not often affect engagement rates, which gives you the freedom to tell a story in your caption or use emojis when words aren't necessary. But beware, Instagram will cut off captions more than 140-characters with a "see more" button.
Use hashtags. According to a study by Simply Measured, posts with at least one hashtag average 12.6 percent more engagement than posts without hashtags. Using them when they are relevant can give your posts an extra boost, but be sure not to overuse them and clutter your captions.
Give a call to action. By hosting a contest, encouraging people to tag their friends or to check out a link in your bio, you can initiate additional engagement from your audiences. These can lead to more followers, higher sales or help generate your online community.